New Design Tools Roundup for 2016-2017
Design • September 30th, 2016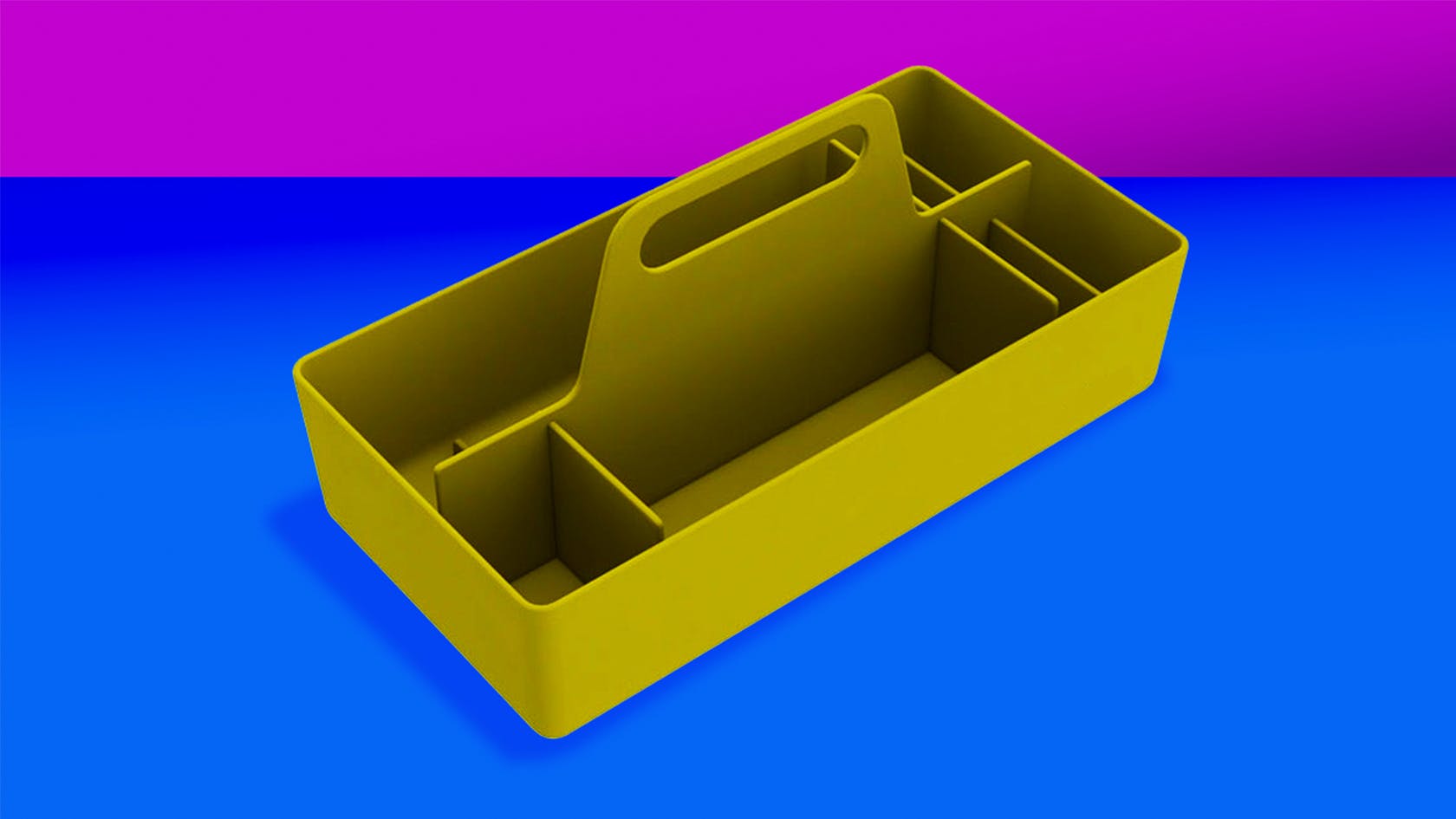 After seeing how giants such as Sketch and Principle have changed they way designers work, we've been looking at some recent new design tool startups with some innovative new ideas to give you a roundup of interesting new creative tools.
So, are any of these Sketch or Principle-beaters? Take a look and see what you think…
Tools covered:
Ceros (Interactive content creation)
Vectr (Vector graphics creation)
Floid (Prototype creator)
Figma (Layout design tool)
UXPin (Wireframing, Design, Prototyping, Task management)
Gravit (Online Vector design tool)
Mural (Collaborative Pinboard for brainstorming)
Highly (Browser / App too to highlight and share text
Frontify (Style Guide creation tool)
Facebook Origami Studio (Prototyping tool)
Google Pixate (Prototyping tool)
WireFlow (Mobile wireframing tool)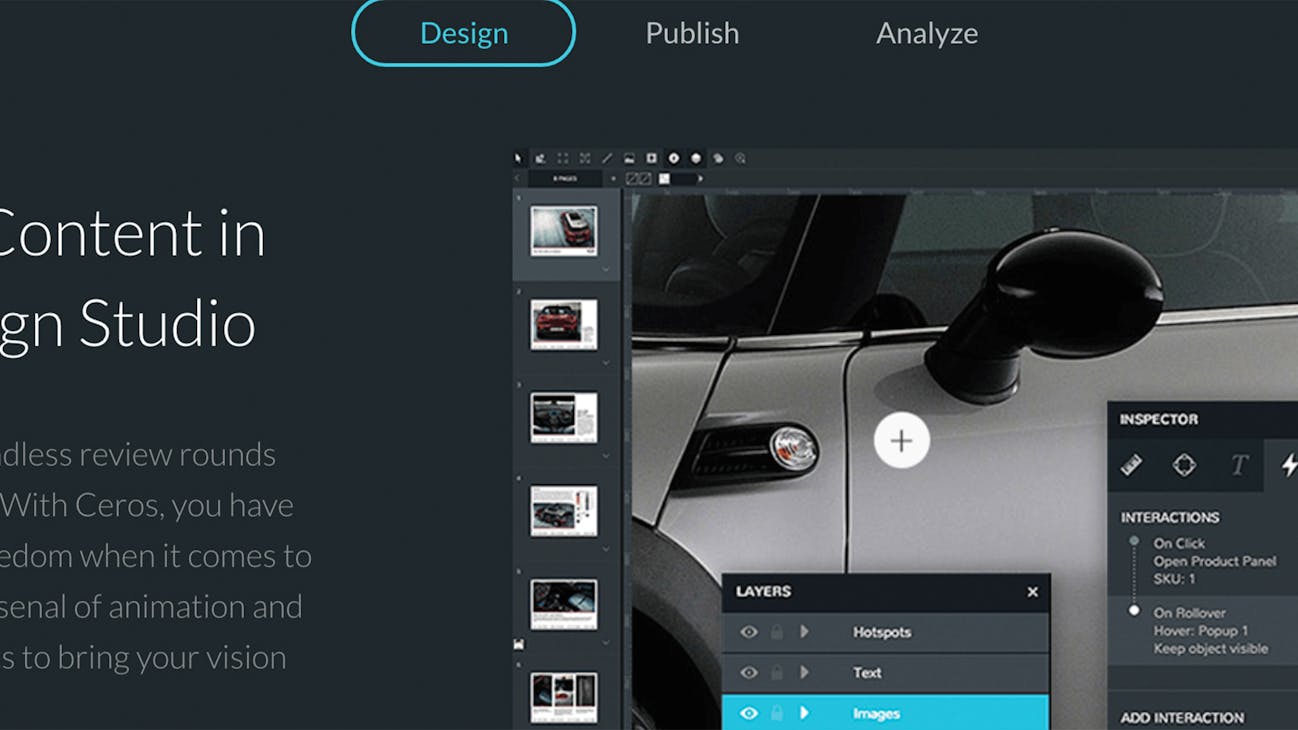 Ceros
What is it?
Ceros is a tool to help create interactive experiences such as Infographics, eBooks, Microsites, Magazines, Cookbooks and Banners. With an impressive client list of users, tools such as these may mean faster turnaround on smaller projects.
Clients:
Red Bull, Bloomberg, Oracle, Mashable, Peugeot, VMware, BMW Mini, Uniqlo
Cost?
Not specified
Website:
https://www.ceros.com/
Examples:
https://www.ceros.com/examples/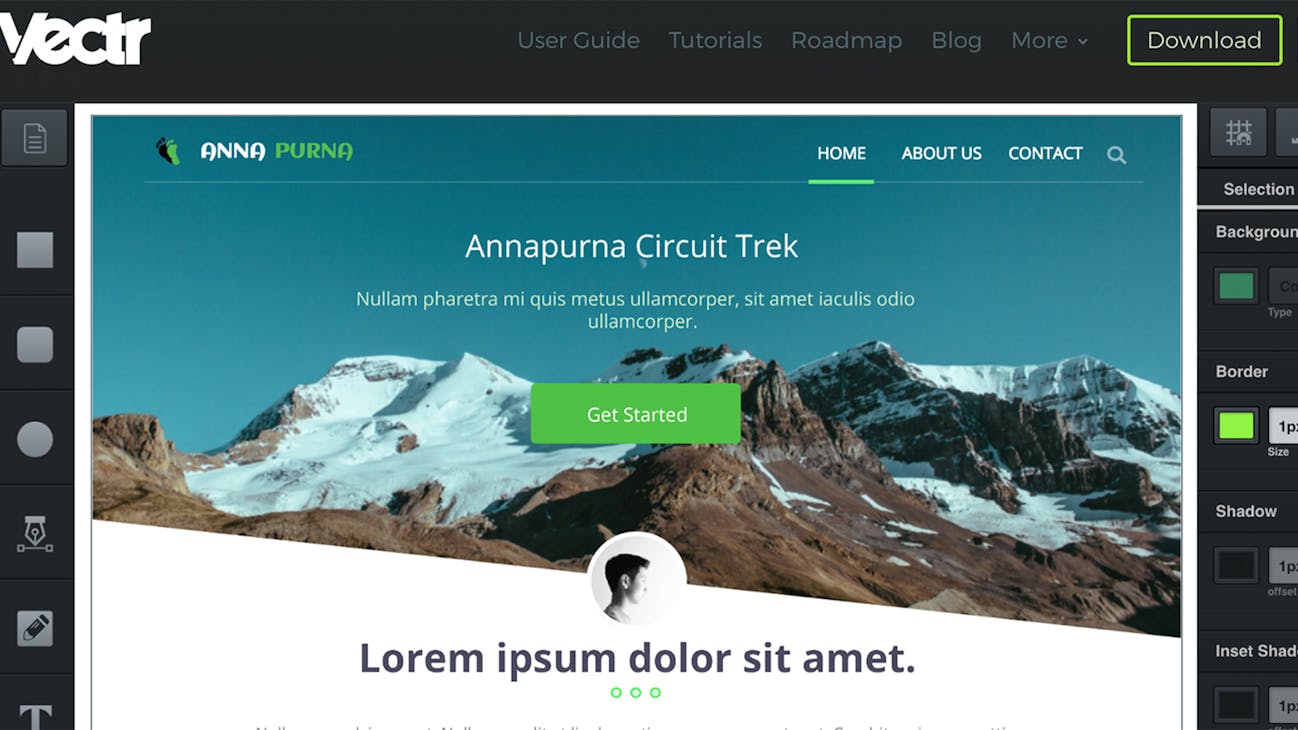 Vectr is a free graphics editor used to create vector graphics easily and intuitively. It's a simple yet powerful web and desktop cross-platform tool to bring your designs into reality.
Vectr
What is it?
This is an interesting idea of an online / offline collaborative design tool. Effectively this would be like working in an online version of Sketch, with the ability for other collaborators to edit your work as you go. Benefits of this include sharing of assets and uniform branding, and being able to work across multiple offices.
Cost?
Free
Clients:
Not listed
Website:
https://vectr.com/
Online Demo:
https://vectr.com/tmp/jCQu5oMrfh/LhmmqaXsFW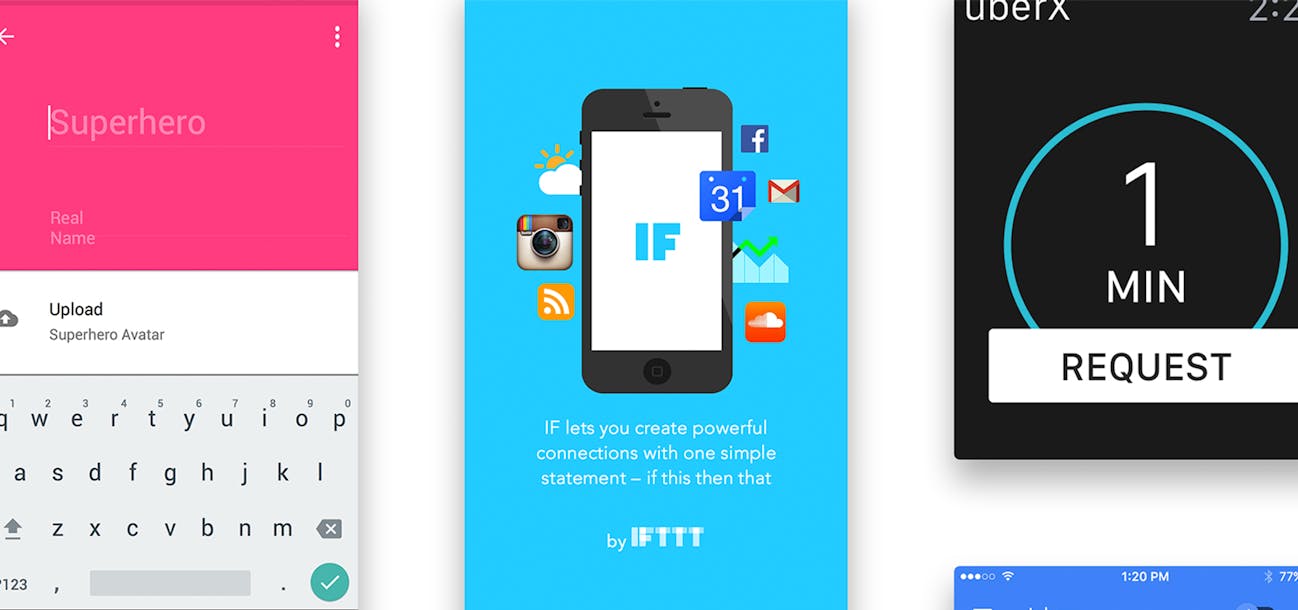 An interaction design tool for any platform & device (Web, iOS, Android)
Floid
What is it?
Similar to Principle, Floid allows designers to create interactive prototypes to share with clients. Floid comes with Sketch / Photoshop import compatibility, Instant preview, and most interestingly, HTML export.
Cost?
Free
Clients:
Not listed
Website:
https://floid.io/
Examples:
https://floid.io/examples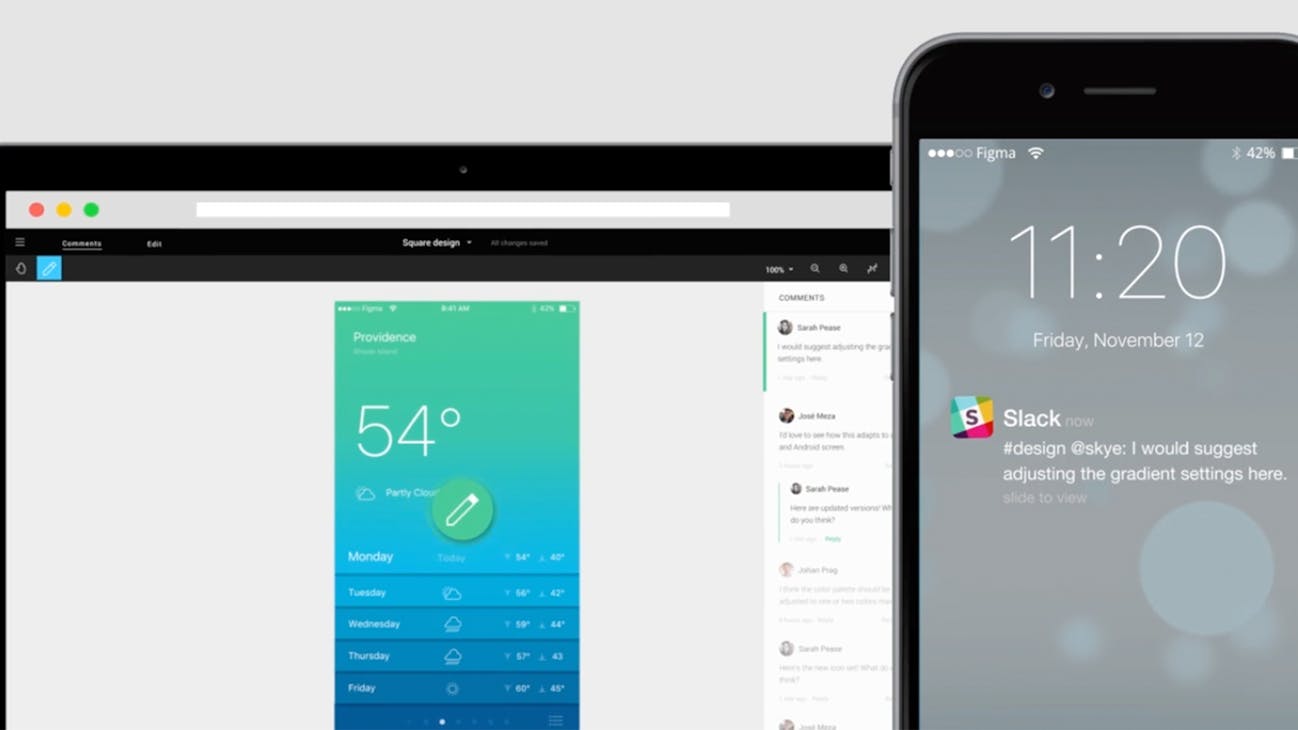 Design, meet the internet. Finally you can do design work online, the way it should have been all along.
Figma
What is it?
Similar to Vectr, this is an online collaborative design tool, allowing multiple users to work on one design project simultaneously. This could be useful for client collaboration, or for working across multiple offices. Comes with built in version control, so all older versions are automatically saved.
Cost?
Currently in Free Preview Release - pricing to be introduced soon
Clients:
Not listed
Website:
https://www.figma.com/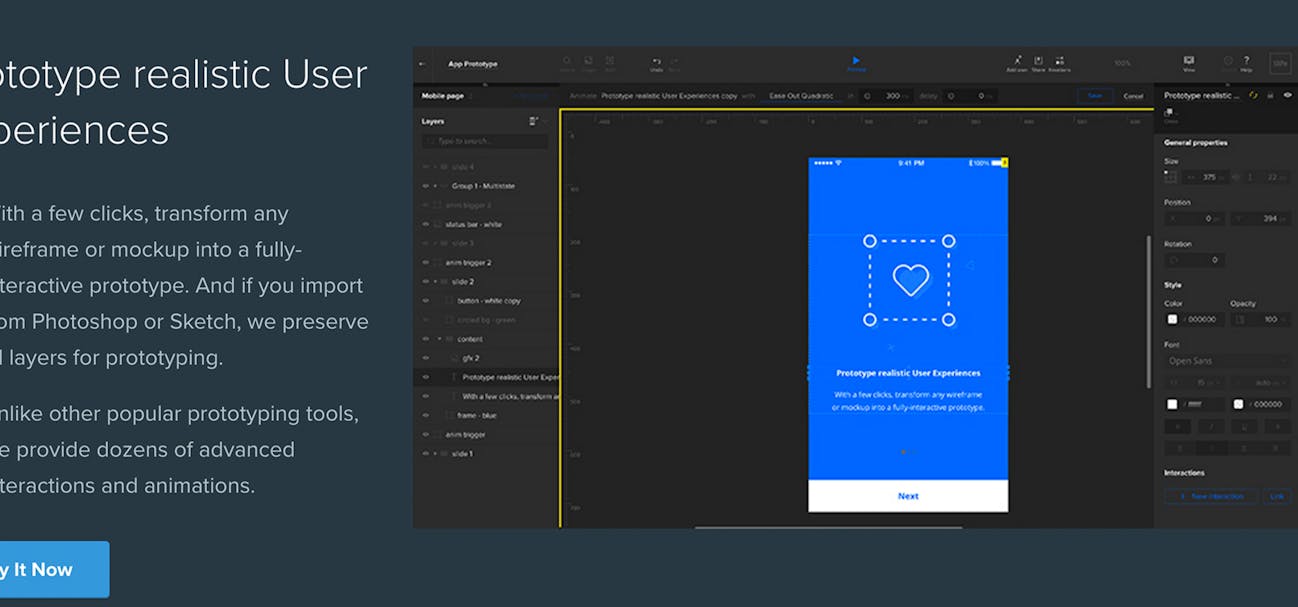 Manage your entire UX design process within UXPin, even if you use Sketch or Photoshop. Always work with your layered design files — also with prototyping tools.
UXPin
What is it?
An all in one solution, encompassing UX wire framing, layout design and prototyping interaction. Also allowing online collaboration in real time, allowing you to screen share with voice calling, without the need for external apps. Has usability, task management and testing tools built in.
Cost?
$19 - $99 per month
Clients:
HBO, Sapient
Website:
https://www.uxpin.com/
Demo video:
https://youtu.be/yxMly4bZSXY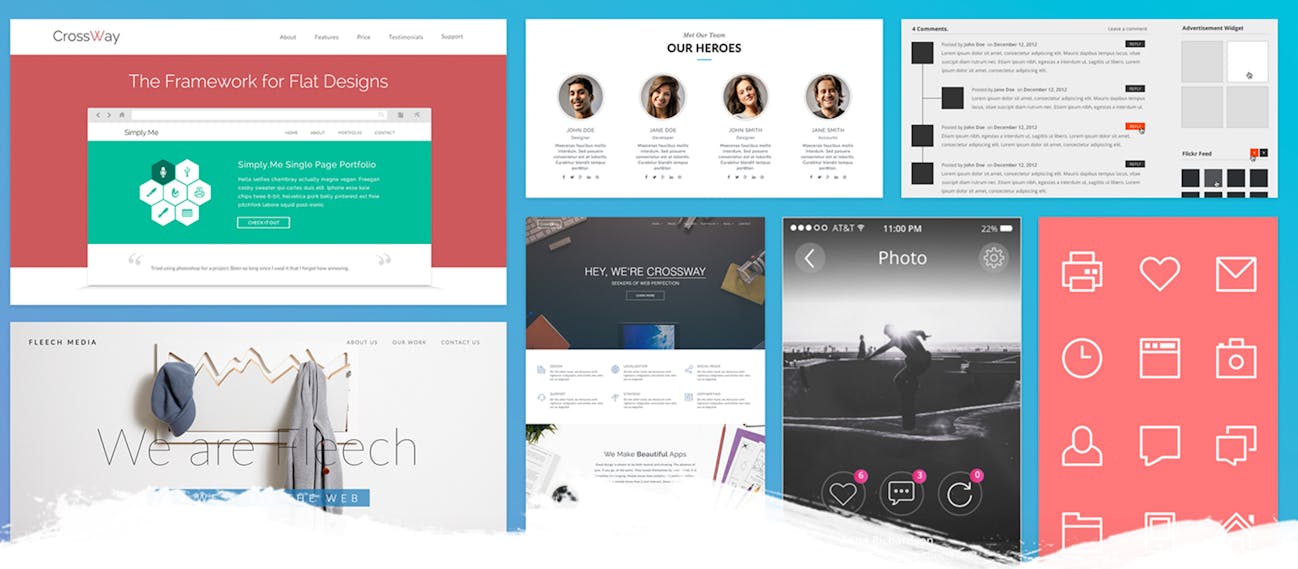 Create and share beautiful designs with the power, flexibility and speed of a free, lightweight and easy-to-use tool, right in your browser.
Gravit
 What is it?
An online design tool allowing online connectivity. Easy to use, but allowing good range of vector-based layout, logo and illustration creativity. As an online platform, it allows work to be easily shared with clients and also can be accessed by any device.
Cost?
Free
Clients:
None listed.
Website:
https://www.gravit.io/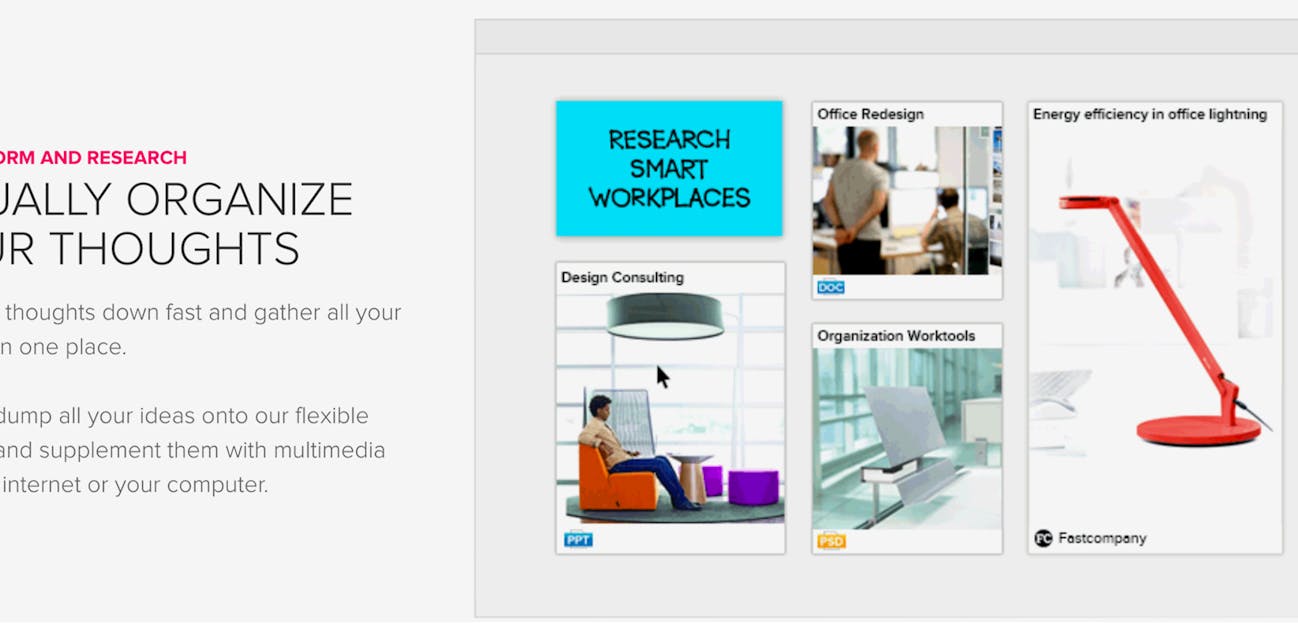 Online brainstorming, synthesis and collaboration.
Mural
What is it?
A collaborative pinboard, allowing many people to align their thoughts in one digital space. Feature built-in sticky notes, image import, Youtube, Slideshare, Evernote and Google Drive compatible. Able to track changes to see how ideas are evolving.
Cost?
$300 - $1500+ per year (higher for larger organisations / more members)
Clients:
Ideo, Disney, Autodesk, Steecase, IBM, Paypal
Website:
https://mural.co/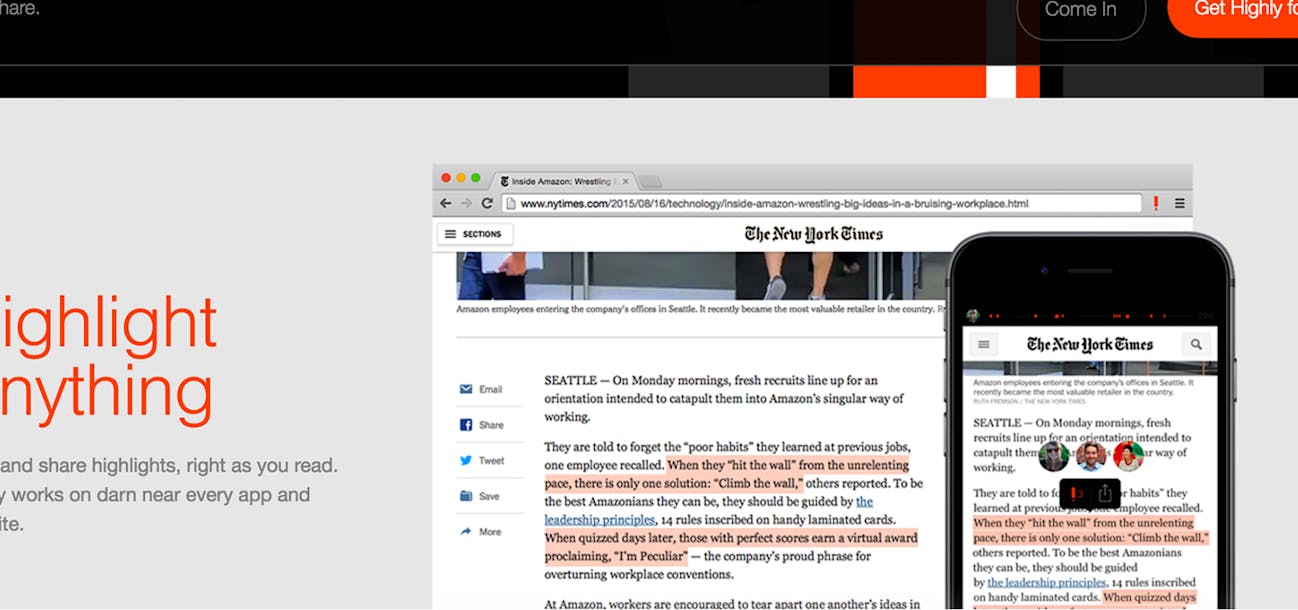 Highlight the web to share the important parts.
Highly
What is it?
A browser / app plugin allowing you to highlight any text you find on an website and then share or save. Useful for collaborative work or researching. Highlighted text can also be shared socially. All saved entries are stored in the cloud, with an archive that can be accessed at any time.
Cost?
Free
Clients:
Not listed
Website:
https://www.highly.co/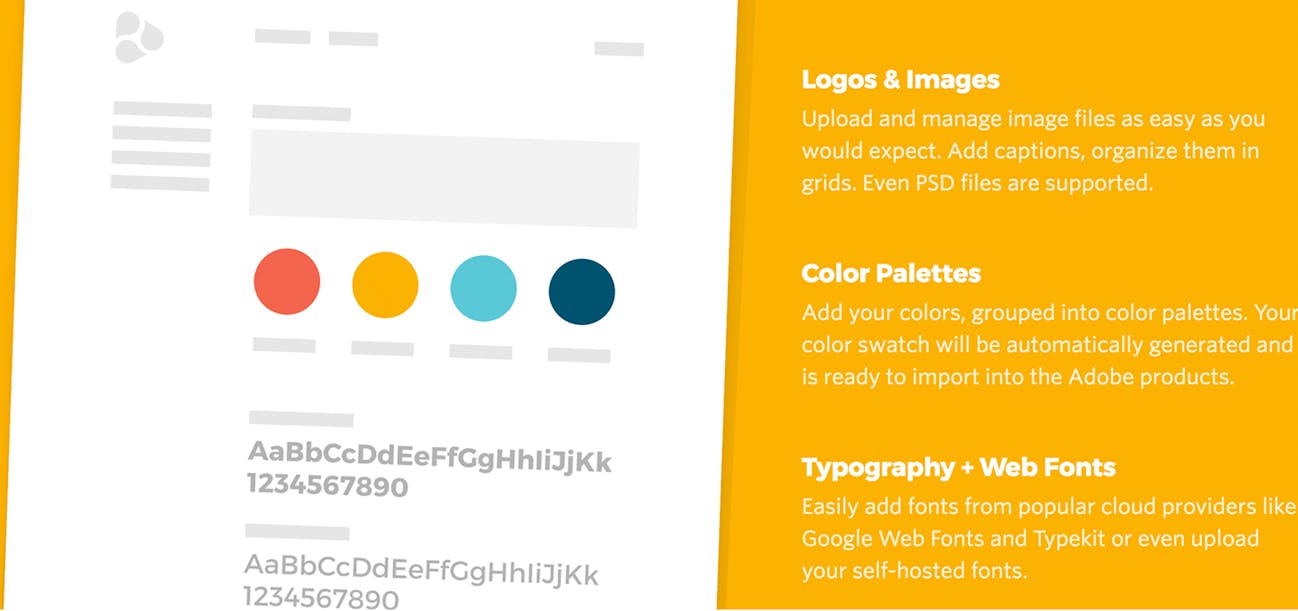 Create Beautiful Style Guides! Creating & maintaining style guides should be simple, fast and fun.
Frontify
 What is it?
An online tools to create and share style guide assets in a digital format. Rather than relying on a PDF of a style guide document, a Frontify Style Guide allows users to download source files for use, via a categorised, cleanly designed interface - you can even export it as a PDF too! Frontify also have a Design Workflow tool, for easy collaboration and simple prototyping.
Cost?
Free, but a pro package is also available
Clients:
Tui, Zurich, Adobe, IBM, Nasdaq, Lufthansa, Sapient, Expedia
Website:
https://frontify.com
Example: https://brand.frontify.com/d/qAiubNBytHKf/style-guide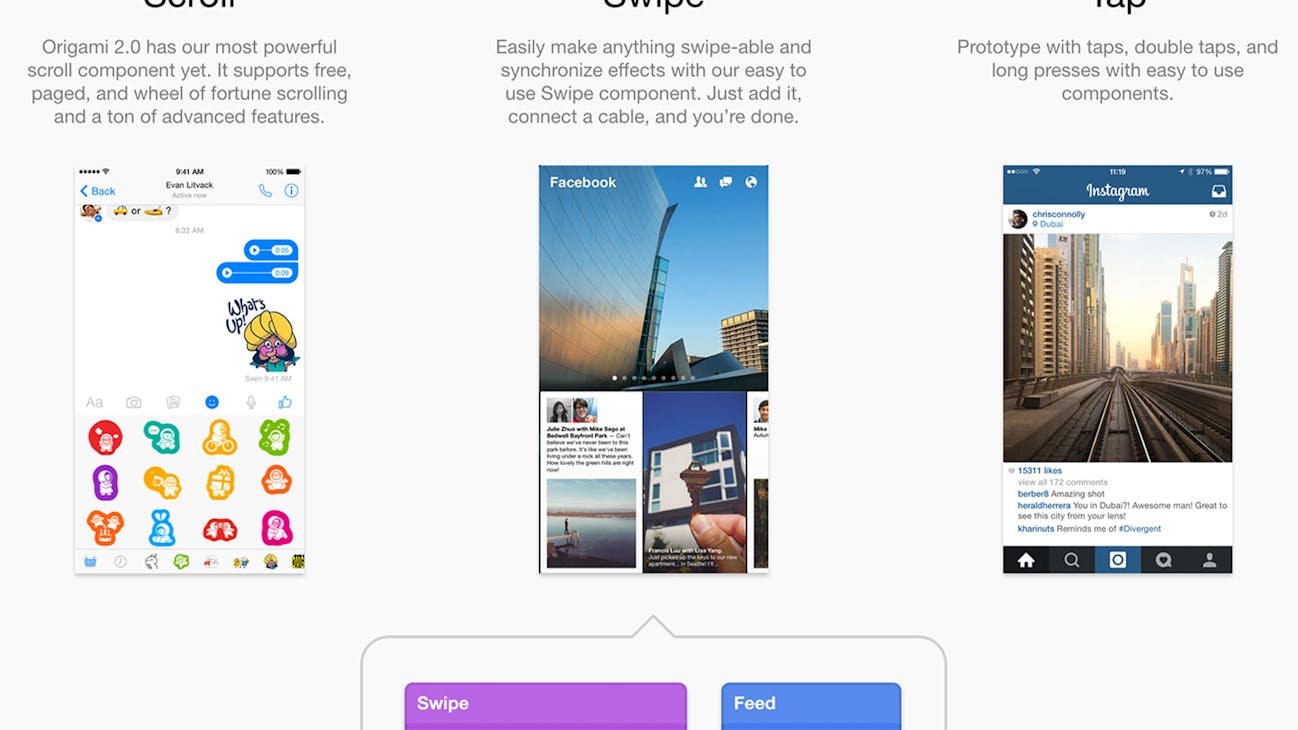 Origami Studio, a brand new design tool built from scratch by Facebook Design, is coming later this year for free.
Facebook Origami Studio
What is it?
Built by Facebook, this is a simple rapid prototyping tool to help create interactive experiences, run it on your iPhone or iPad, and then once completed you can export snippets of code for developers to use. It has a good community behind it, and plenty of tutorials.
Cost?
Free
Clients:
Instagram Paper, Facebook Messenger, Slingshot, Rooms and Groups
Website:
http://facebook.github.io/origami/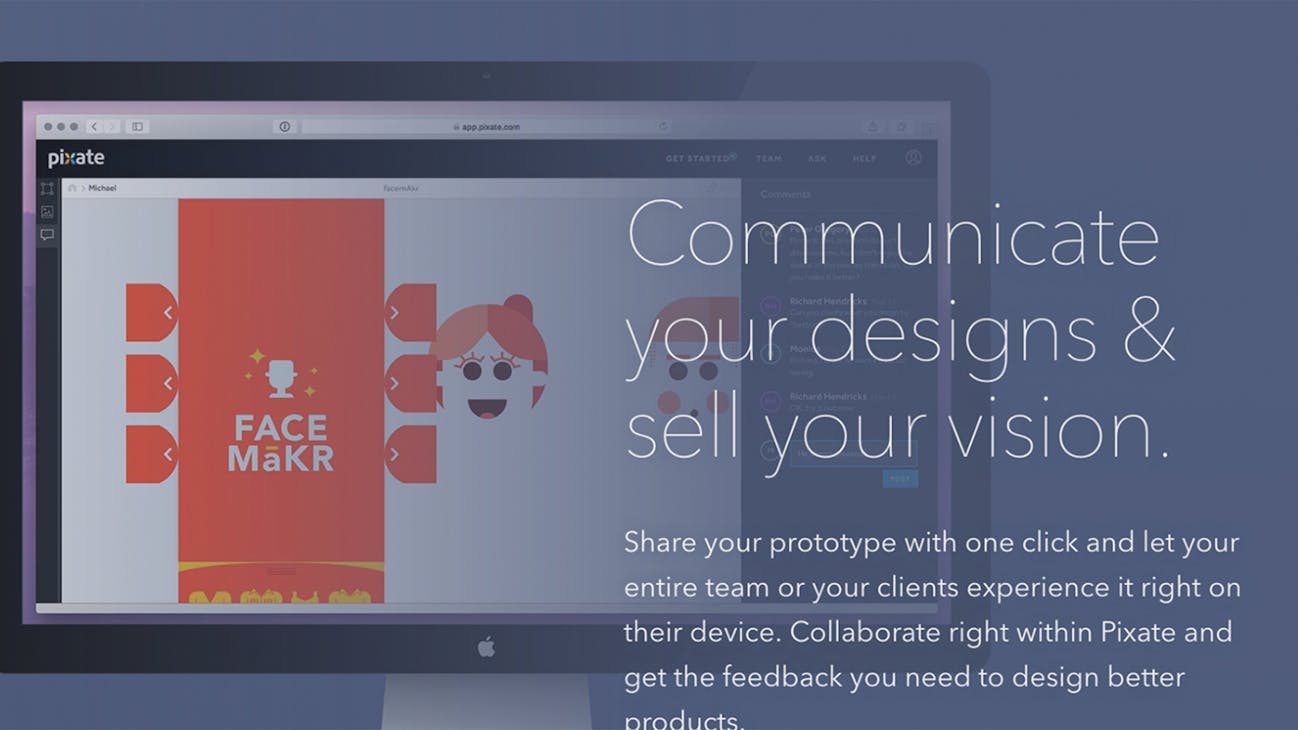 Make your ideas a reality. Change the way you design with the most powerful prototyping platform on the planet.
Google Pixate
 What is it?
Creates 100% native prototyping, so you can load prototypes onto devices and experience them as if they're real. Share prototypes with team members and clients with one client, viewed right on their device (using the Pixate app). Has built-in collaboration tools to get the feedback you need.
Cost?
Free
Clients:
Amazon, Apple, Disney, Facebook, Google, Ideo
Website: 
http://www.pixate.com/
Examples:
http://www.pixate.com/education/demos/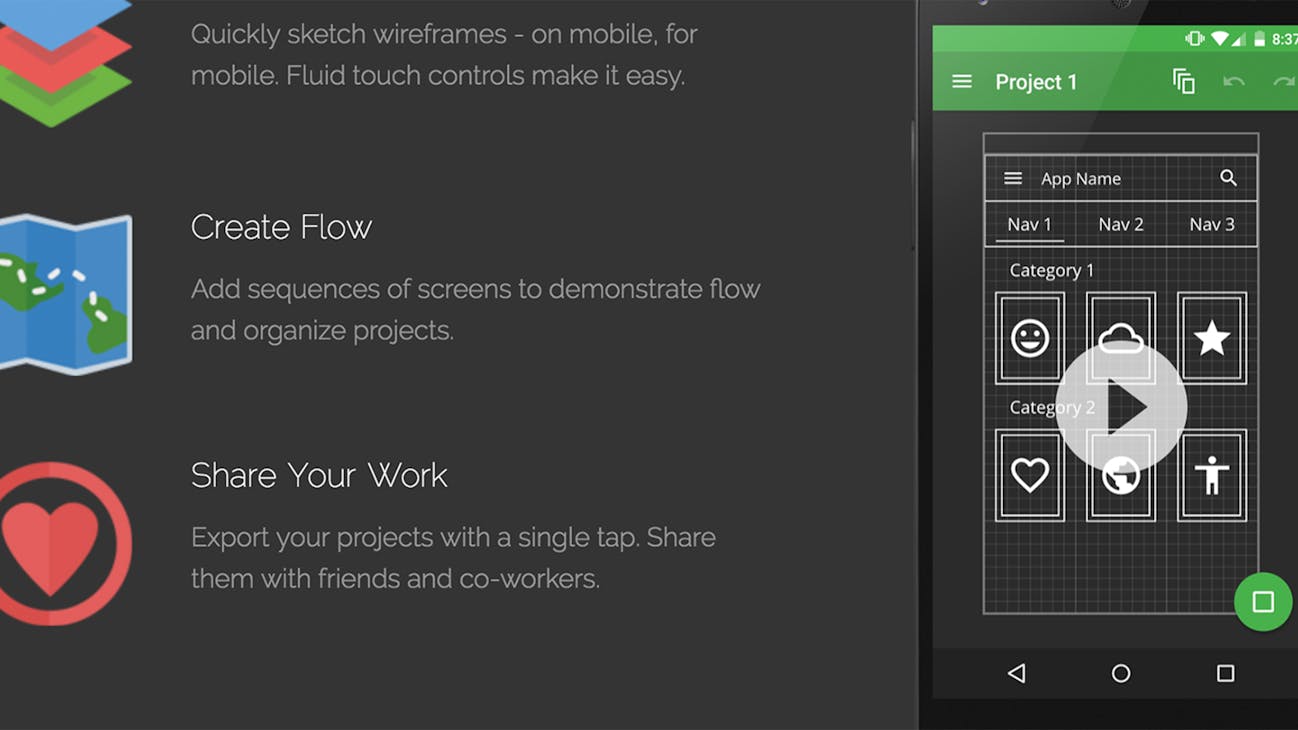 Quickly sketch wireframes - on mobile, for mobile. Fluid touch controls make it easy.
WireFlow
 What is it?
A quick tool to allow a designer to create wireframes straight onto mobile. Ideal for in-transit work, or just to create into the space you are designing for. Sequences can be created to demonstrate flow and help organise projects. Once completed, designs can be easily shared. Currently for Android only.
Cost?
Free
Clients:
Not listed
Website:
http://wireflow.ludomade.com/
Final Thoughts:
Some innovative ideas - all of these could improve workflow, but as an early adopter would you feel comfortable investing your time into a lesser-known product? Not that long ago, Sketch and Principle would have been in a list like this, and in a very short time they've both become leading tools.
But it's clear from all that one thing is consistent - live online collaboration. It seems all tools tackle this, with an ability to co-work live, and in some cases chat and talk, all within the design tool itself. At the moment, collaborative design isn't high on most agencies agendas, but there are clearly benefits in some cases, e.g. cross-office working, version control (with only one main design file in circulation) and easy client sharing / presenting.
Could this be a core trend for 2017 design? We'll be watching these new tools with interest to see how they develop.