Just Eat
Transforming Just Eat's future vision and strategy
The challenge
When Just Eat partnered with Beyond, their aim was simple: they faced pressure from new entrants to the market and wanted to maintain their position as number one in the industry.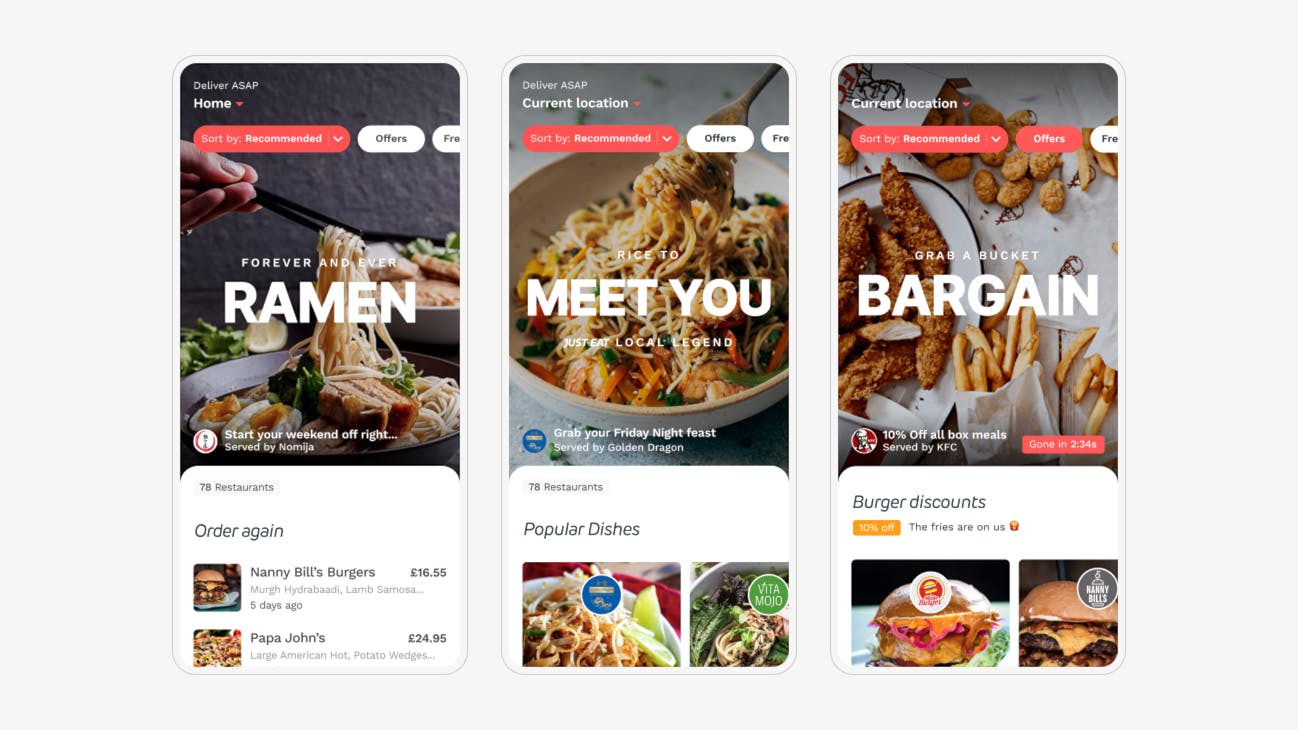 Our approach 
Beyond collaborated with Just Eat teams to set in motion a complete transformation of the product - and their organisation. A focus on being product-centric has enabled Just Eat to innovate and iterate at speed, putting the customer experience at the heart of everything they do.
What we delivered
When Just Eat originally started out, they identified a great problem to solve: customers didn't have knowledge of all the takeaways in their local area. Just Eat gave them this information, and simplified the food ordering process. But customers' lives have changed – smartphones are more powerful than the computers available when Just Eat started and what made them successful in the past won't maintain their market position or unlock growth.
We set out to understand these macro-trends, and the impact this is having on both customer expectations — and the opportunities it presents. We conducted a heuristic evaluation of the product to understand the experience relative to the competition. We used these insights to create a bold new vision that would beat the competition, while being careful not to lose existing customers with big changes.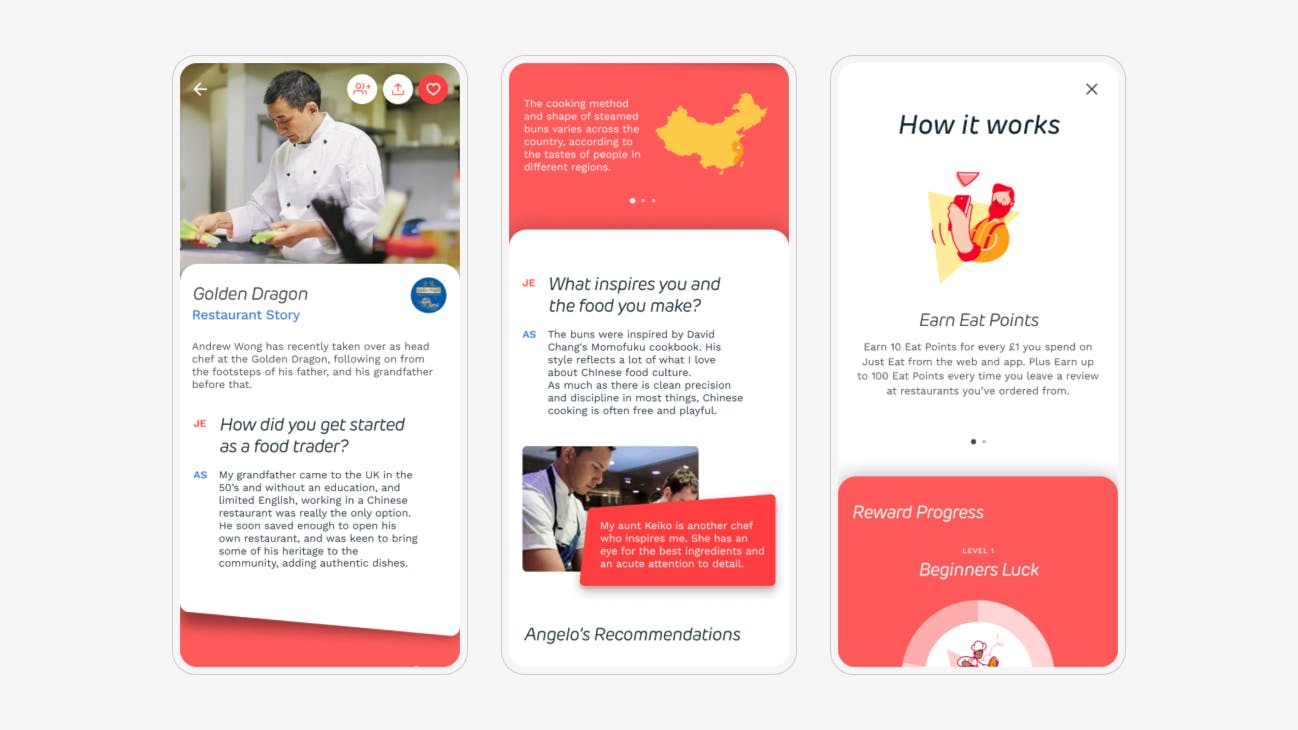 Transforming user experiences
While we worked together to make improvements to the current user experience, we also looked at concepts to differentiate Just Eat and exploit new market opportunities, extending their value-proposition with new services. Over six months, we focused on the following key areas:
Product experience – We explored ways in which the playful and friendly side of the brand's personality could be used across the product to positively impact the customer experience. 
Product differentiation – Just Eat needed support identifying new market opportunities that would differentiate their services. 
Service design – To understand the Just Eat experience for everyone, we interrogated and mapped the entire service and identified strategic recommendations for how to resolve organisational challenges and inform the future vision.
Technical architecture – We refactored components of the platform architecture to enable the product to support improvements to the experience. 
Developing new products and services
We agreed a shared vision for the near-future was required to align Just Eat teams around specific areas of focus. Underpinned by insights, eight customer experience foundations sat at the heart of our vision, and describe what is important to customers: Brilliant beginnings; Catering to all food occasions; Knowing me, knowing you; Getting closer to food; Courting the consumer; Hiccup-free delivery; All right on the night; Make a habit of it.
Next, we brought these foundations to life. Together we explored multiple design directions to underpin the future look and feel for Just Eats products and the service provided. We prototyped the first major change to the customer experience – demonstrating how these foundations can work together, and how this would differentiate the consumer product.
We also looked at the restaurants' experience, and undertook rapid design sprints around the needs of restaurant partners. Further, we created a go-to-market playbook which was tested with restaurant partners.
Enabling sustainable innovation
We consulted on the definition of OKRs to align product teams and departments with a single set of topline metrics to provide focus and direction. We also consulted with the Chief Experience Officer and country Managing Directors on the wider investment priorities for 2019/20 and aligned this to the customer experience vision we developed.
What we learned
"Working with a digital first business like Just Eat - and helping them to mitigate the impact of disruption - gave Beyond first hand experience of the challenges that such companies face when confronted by new entrants to the market. This experience has helped us to hone our product strategy offering to help clients move their business forward at pace."
Stefan Brierley, Product Consultant, Beyond (London)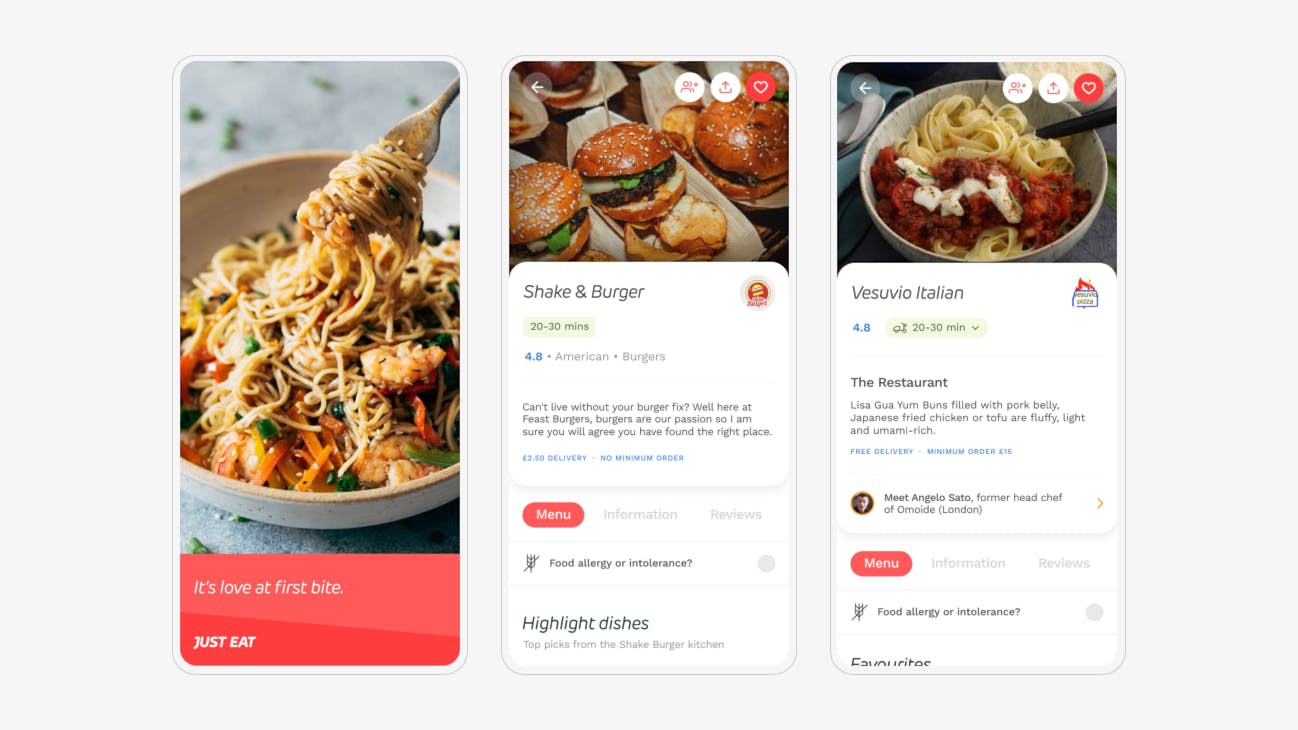 "In a constantly evolving market, we need to differentiate our product to maintain our position as the very best in our industry and continue on a course of growth. Collaborating with Beyond enabled us to transform our product experience and strategically ensure that the customer remained at the heart of everything we do. "