Data and creativity: friends or foes?
Technology • April 29th, 2016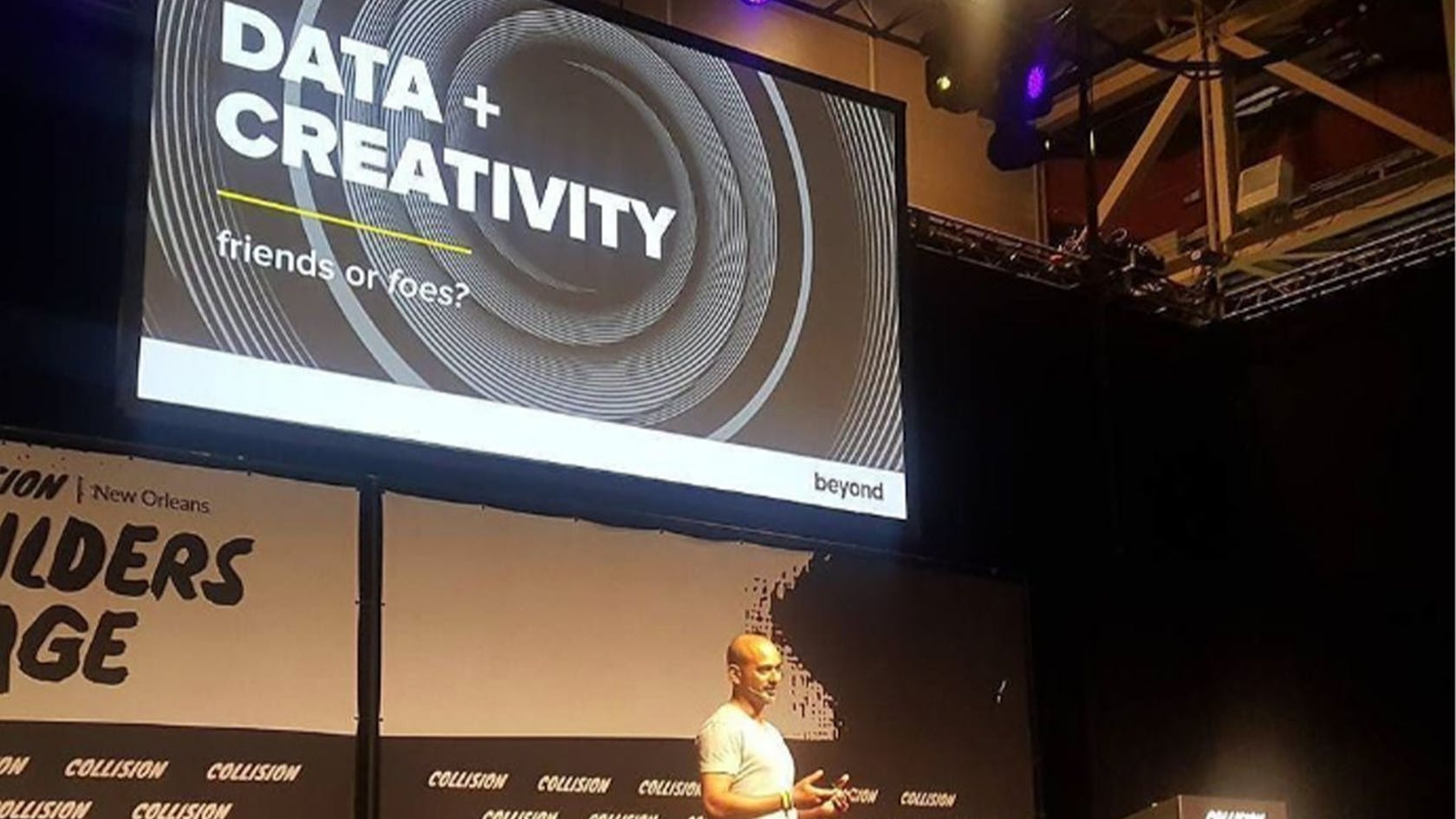 There is a lot of conversation around big data. We decided to take this conversation to this year's Collision Conference, held in New Orleans.
These days you can't do anything without being told that data can help you. People are looking to data as an answer to their problems, but this in itself is a problem; data doesn't always tell a neat enough story to create solutions.
A creative lens is needed to distil meaning from data and translate this into value. At Beyond, we believe that data is an integral part of the creative process - one that helps drive new product design. If you can get creativity and data working together you can do remarkable things.
But, what we've learned in the six years since founding a company based on combining data and creativity is that it can be tricky to strike the balance between the two - if one outweighs the other you may limit the possibilities. You need a strong methodology to make the two work together and avoid a culture clash.
Data vs creativity
Our view that data and creativity are mutually beneficial isn't universal; there is a school of thought in the marketing and product design industry that data and technology are more important than creativity. Sir Martin Sorrell argues that the definition of creativity needs to change, that WPP is no-longer in the business of advertising; the age of the Mad Men has passed. This is important as data is defining where he directs clients spend and this pattern has shifted away from traditional news outlets. He is now spending $4bn with Google and $1bn with Facebook based on the reach it gives his clients.
This ad spend fuels some of the tech industry's biggest platforms and in turn allows them to push other boundaries. Others are vehemently opposed to a data-driven approach. Sir John Hegarty the founder of the advertising agency BBH he argues data in itself makes nothing, it's creativity which makes things.
Industry landscape
Everything is changing in the wake of the recent data explosion. By 2020 the industry predicts there will be 50 billion devices connected to the internet and the consumer market will be worth around $170 billion. The industrial internet (using data from machines) will dwarf this at around $220 billion, according to GE.
In business companies are being redesigned due to the opportunity data and technology presents. Incumbents fear losing market share and see the opportunity ahead; they need to innovate and create new products in order to drive change and stay ahead of the game
This trend towards digital-driven redesign is apparent across all industries. Buzzfeed is shaking up the news industry receiving more than 6 billion monthly content views, Transferwise is eating away at the finance industry, completing more than $1 billion worth of transactions - and airbnb has well and truly disrupted the hospitality market being valued at anywhere between $10-25 billion. Uber is on a similar mission.
It's a disrupt or be disrupted mentality as the size of the potential pie is huge. This means the boardroom is preoccupied with numbers and big data as it opens up new business opportunities and companies seek to disrupt themselves.
Adapting to a data-driven landscape
A recent KPMG survey 99% of C-suite executives said that Big Data was important to their strategy for next year. Gartner says that few businesses have seen the value of the data they have collected as yet and one can ask where the role for creativity is here?
To meet the challenge that business faces, the big consultancies that advise most of the large companies on strategy and innovation have been trying to answer this question by bolting on other companies to themselves. Accenture went creative and acquired Fjord, McKinsey went data and bought Quantum Black.
We did the same six years ago – we acquired a data company for its ability to mine and make sense of unstructured data. We thought our data capability would supercharge us. We wanted to use this unstructured data (which accounts for as much as 80% of all the new data created) and combine it with behavioral data to see how we could optimize experiences and create better customer journeys.
Cultivating a relationship between data and creativity
We found that the data we were getting just wasn't telling us enough of a story. We found that you needed something around the data to give it meaning, context, and spark action.
It's hard for analytical cultures to integrate with creative ones and visa versa – analysts break problems down into research parts – creative cultures need questions and problems to work from. It's about finding the balance.
We tried addressing this by hiring a creative director, but we soon realized this wasn't the solution. We needed a culture of collaboration. We realized that when we started working on problems from the outset as teams and we began cultivating a much stronger relationship between data and creativity. We were able to give meaning to the data and also allow our creative thought to be grounded in meaning.
Fostering a collaborative culture
We developed a way of working that involved getting interdisciplinary teams (data, design, UX, project management, engineering) to work autonomously in teams together. We called it Applied Creativity. This is the application of data to the creative process at all levels, uniting all disciplines at the start of a project in order to tackle the problem holistically. It is an agile way of working, used to make a product vision tangible.
Working as a team to give the data we found meaning and allow the creative process to flourish more broadly produces meaning, which directly reflects on the products we create.
Data and creativity must work together. They are a complementary pairing and they enhance each other's value - as long as you can strike the all-important balance between the two. Ultimately, data is invaluable for defining the question, but you need creativity to come up with the answer. Ideas can come from everywhere if you have a process to unlock them, and a culture fuelled by collaboration affords meaning to both data and creativity.