Net Aware wins an Internet Matters award
• August 5th, 2016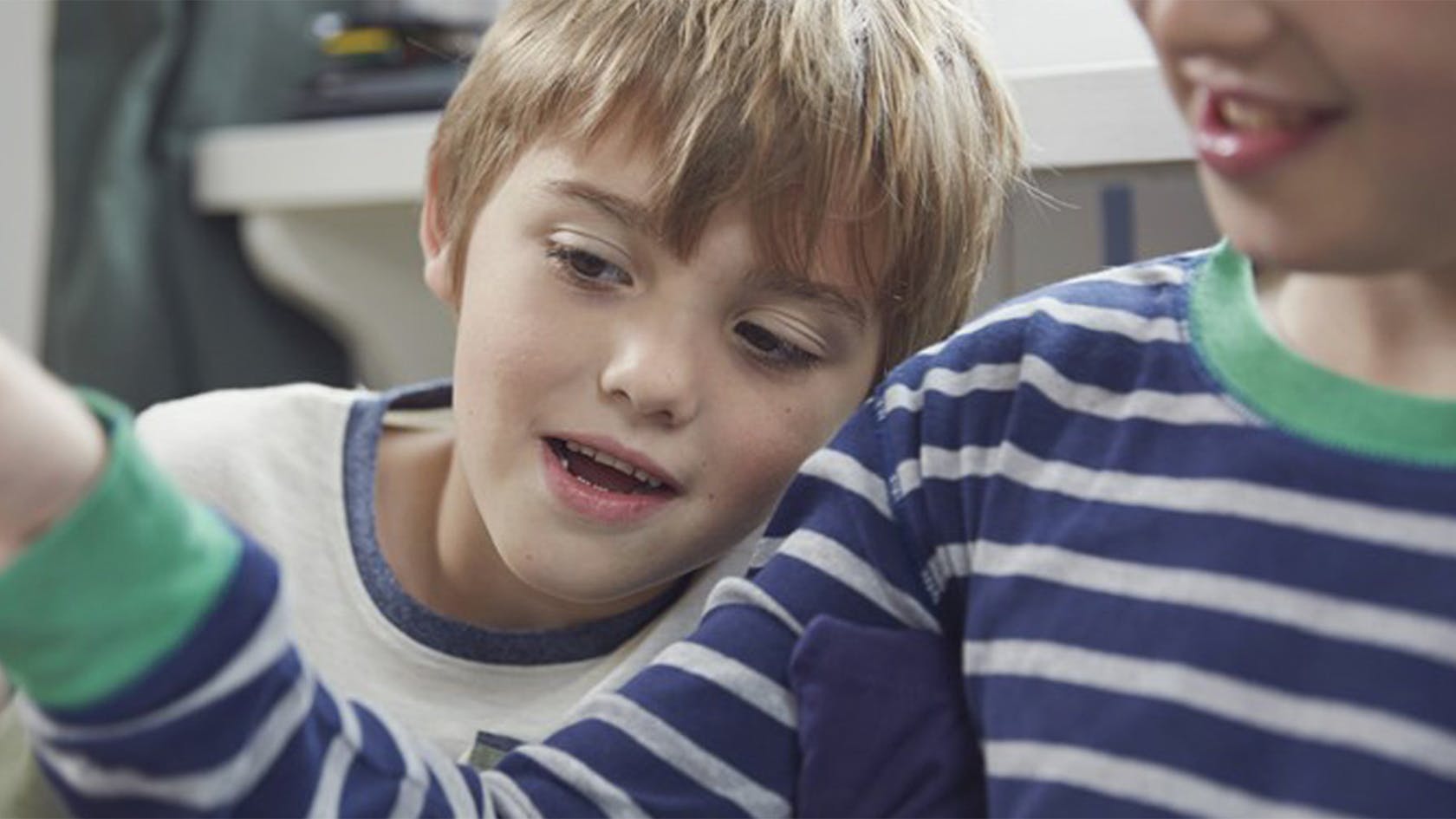 As one of the NSPCC's key digital agencies, we are thrilled to announce that the NSPCC's Net Aware won an Internet Matters Digital Safety Award for Best Product or Service for Parents.
The NSPCC is the leading children's charity fighting to end child abuse in the UK and Channel Islands. We teamed up with them to create Net Aware, a product to help parents protect their children online.
Internetmatters.org is a not-for-profit organization that has a simple purpose – to help keep children safe in the digital world. They are backed by some of the UK's most prominent internet industry players - BT, Sky, TalkTalk, Virgin Media, BBC and Google - and are supported by leading child online safety experts. They aim to offer the best advice and information available on tackling e-safety issues.
The Digital Safety Awards is a brand new innovative awards scheme that recognizes the best products, services, and initiatives that help keep children safe online.
The Internet Matters board were looking for products or services that parents can use to help keep their children safe online and provide excellent safety benefits whilst remaining simple to understand and implement, and Net Aware was their top choice!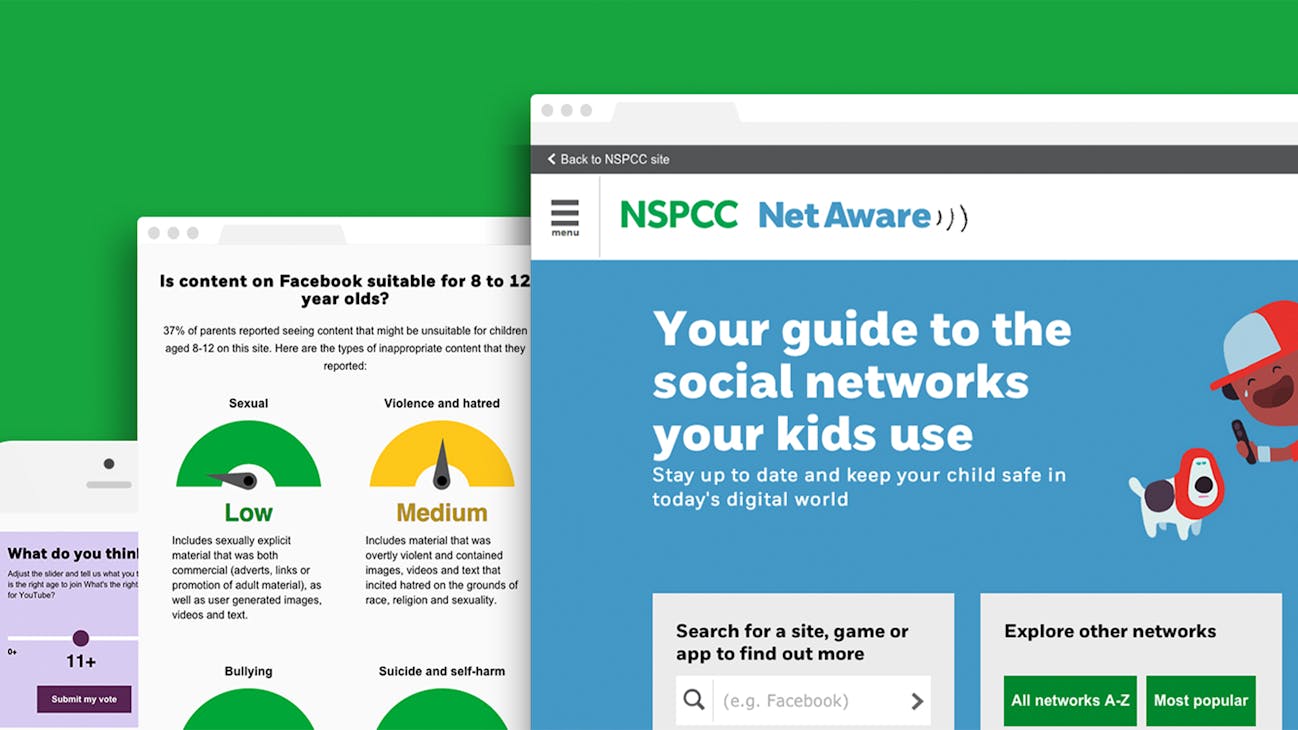 What is Net Aware?
In partnership with the NSPCC, Beyond worked with parents and experts to define the Net Aware concept and initially create a website and later an app that stands as the UK's only parents' guide to 50 of the most popular social media sites, apps, and games that young people use.
Aimed at parents and carers of 8-12 year old children, the guide is based on over 750 reviews from a parent panel and over 1,720 young people who reviewed 50 social networks and apps.
Supported by O2 as part of an online safety partnership with the NSPCC, Net Aware provides an independent overview of the safety of the places children spend their time online. It is designed to give parents access to the knowledge needed to demystify their child's online life.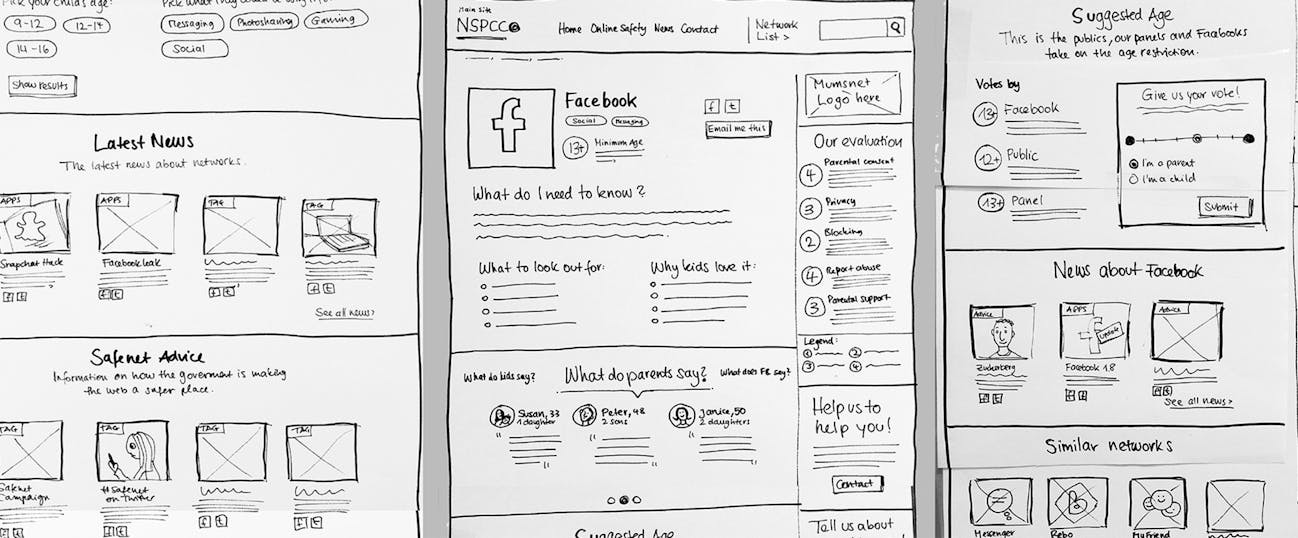 Results
Since its launch in January 2015, Net Aware has seen 264,000 sessions on the platform from 225,000 individual users.
Net Aware has been used as a reference point for parents to build their knowledge, a facilitator for conversations with children and a benchmark to successfully influence industry, with some social networks responding that they would use their Net Aware reviews to improve their safety settings. There is clear evidence of this being put into practice; when revisiting the responses in March 2016, the reviews suggest a marked improvement in the safety and security of multiple sites.
Net Aware has made a splash in the press, driving over 200 pieces of coverage from BBC Breakfast and Good Morning Britain to The Times, The Sun and MailOnline. The NSPCC has also seen a strong interest in Net Aware updates, with over 4,000 users subscribing to the Net Aware newsletter, which sees an open rate of almost 50%.
The success of the Net Aware product has now led to the development of a Net Aware app, supported by O2 – NSPCC's online safety partner.
Reception
Net Aware has received a strong backing from industry experts as well as parents. Professor Sonia Livingstone, member of the UK's Council for Child Internet Safety, wrote this blog after Net Aware's launch.
"NSPCC has done something I have often hoped for – a kind of mystery shopping exercise by the public on just what these sites offer – in terms of both risk and safety. At last, an evaluation of the online social network sites kids actually use – by parents and teenagers themselves. - Professor Sonia Livingstone"
The Children's Commissioner also tweeted her support:
Protect children online &get #NetAware with the UK's only parents' guide to the most popular social media sites&apps https://t.co/CBLEQEWXdr
— ChildrenCommissioner (@ChildrensComm) April 6, 2016
And, most importantly, similar positive feedback can be seen from Net Aware's target audience - parents.
"I get pestered about various social media sites and it's good to know I can go to one place for info instead of googling and trying to work it out myself whether or not it is suitable – Parent, YouGov Focus Group Apr 2015"
"Net Aware is easy to understand and navigate. I like the suggested suitable age before using and the advice on privacy settings etc. – Parent, YouGov Focus Groups Apr 2015"
Here at Beyond, we're thrilled that Net Aware has had such a positive impact, and that Internet Matters has recognized the value of this product.