NSPCC Little Stars is live!
Design • October 28th, 2016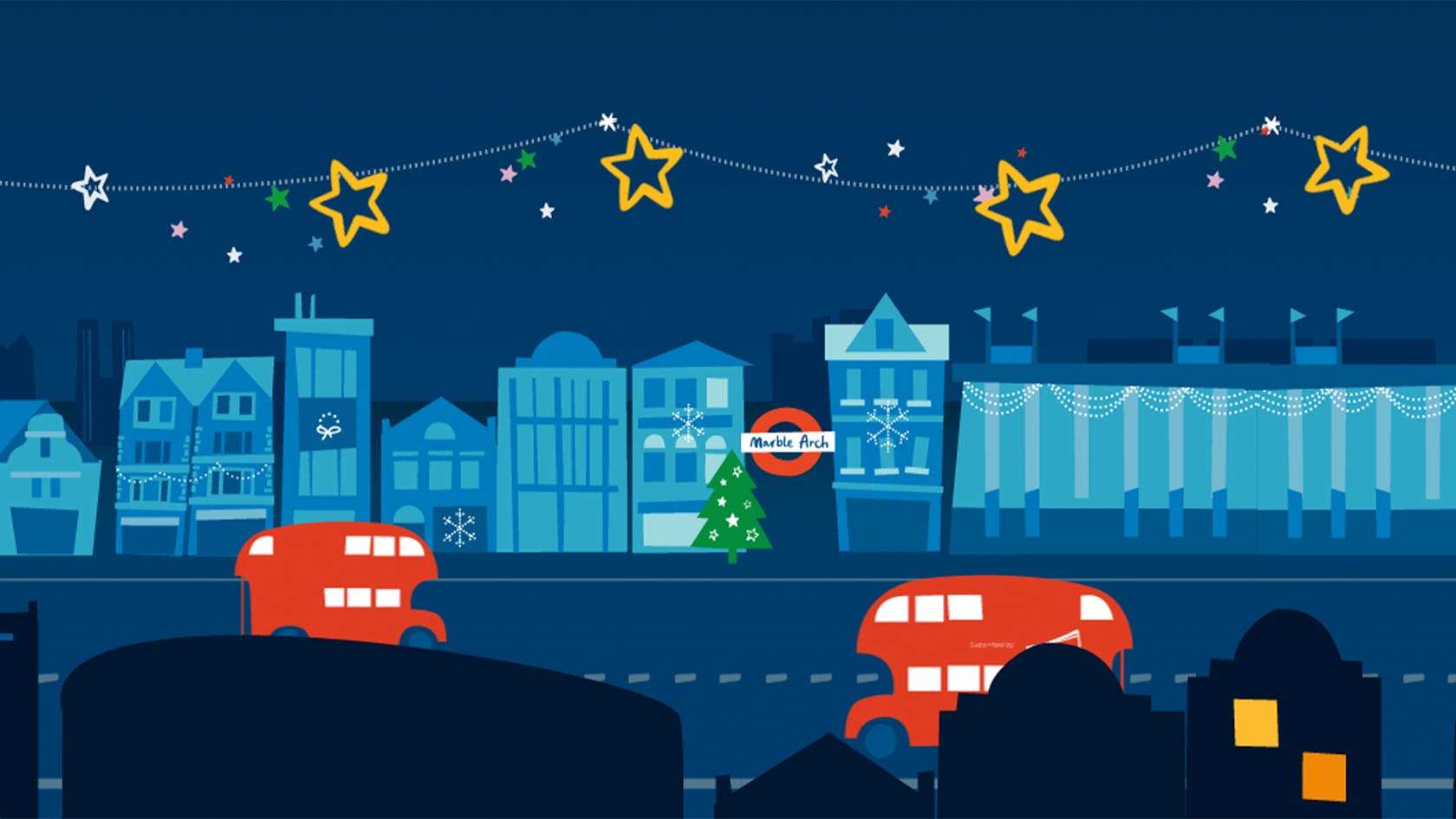 This Christmas, you can dedicate a light on Oxford Street for someone special in your life courtesy of the NSPCC. As the official charity partner for this year's Christmas lights on London's Oxford Street, the NSPCC invites you to get involved in the world famous display and be a part of their Little Stars fundraising campaign.
Oxford Street has hosted the Christmas lights for the past 56 years, but this year marks the first time that a charity has partnered with the display. The classic gold and silver baubles and bulbs will be interspersed with the NSPCC's stars. The funds raised by naming them will go towards the NSPCC's helplines and national services, to "keep children safe this Christmas" and help them to recover when they have fallen victim to abuse.
""We're delighted to be chosen as the first ever charity partner for the Oxford Street Christmas Lights and are asking the public to help us light up the world famous display throughout the festive period. Anyone can get involved by making a donation and naming a star to someone special in their lives, each donation and each light will help us keep children safe from abuse, so they're free to dream at Christmas, and all year around." - Peter Wanless, Chief Executive of the NSPCC "
Based on the successful 2015 brand campaign, Alfie, Little Stars helps remind people that every child deserves the opportunity to dream without limitation. The NSPCC is trying to instill the idea that "your donation can take a child anywhere".
With Little Stars, people can 'buy' one of the Christmas lights on Oxford street and dedicate it to someone important - it could be a special child in their life, someone who was special to them in their own childhood, or as a tribute to someone who is no longer here. The suggested price of a light is £5, which represents the cost of answering a Childline call.
The NSPCC engaged Beyond on the Little Stars campaign to design and develop an online fundraising platform for users.
The NSPCC had defined the Little Stars brand, but we were tasked with designing an online virtual experience where users could choose their star on Oxford Circus and dedicate it to someone by making a donation to NSPCC in the process.
After working closely with the NSPCC, we realized we had to create a magical experience that would entice the visitor to interact with it.
One of our designers, Andriana, describes the process:
""We started off with a clear storyboard of how we would represent Oxford Street and from there we built up the concept by illustrating some of Oxford Street's most iconic buildings with a quirky, whimsical feel. With Little Stars, we have defined a clear landscape with a selection of christmas lights that you can choose from, mindfully prompting the user through an easy step-by-step journey - whether they are on their mobile, tablet or desktop computer they won't miss out on the experience of choosing a star. We chose to use a horizontal parallax scroll to bring depth and motion to the landscape we created, engaging the user to interact with the fun handmade visual elements, and also added animations in correlation with the interactions. We also created a sharing aspect that allows anyone with a link to view their dedicated star, allowing them to get the full experience of the mini website." - Andriana Meletakou, Senior Designer"
The website is live now, ready for the lights to be officially switched on the 6th of November. But already, after being live for just two weeks, the Little Stars homepage has seen 140,000 visitors and users have bought 7,000 stars, raising approximately £40,000 before the lights have even been switched on!
Dedicate a star to a loved one here, and help keep children safe this Christmas.