Workspace: Doodle Den
• March 24th, 2017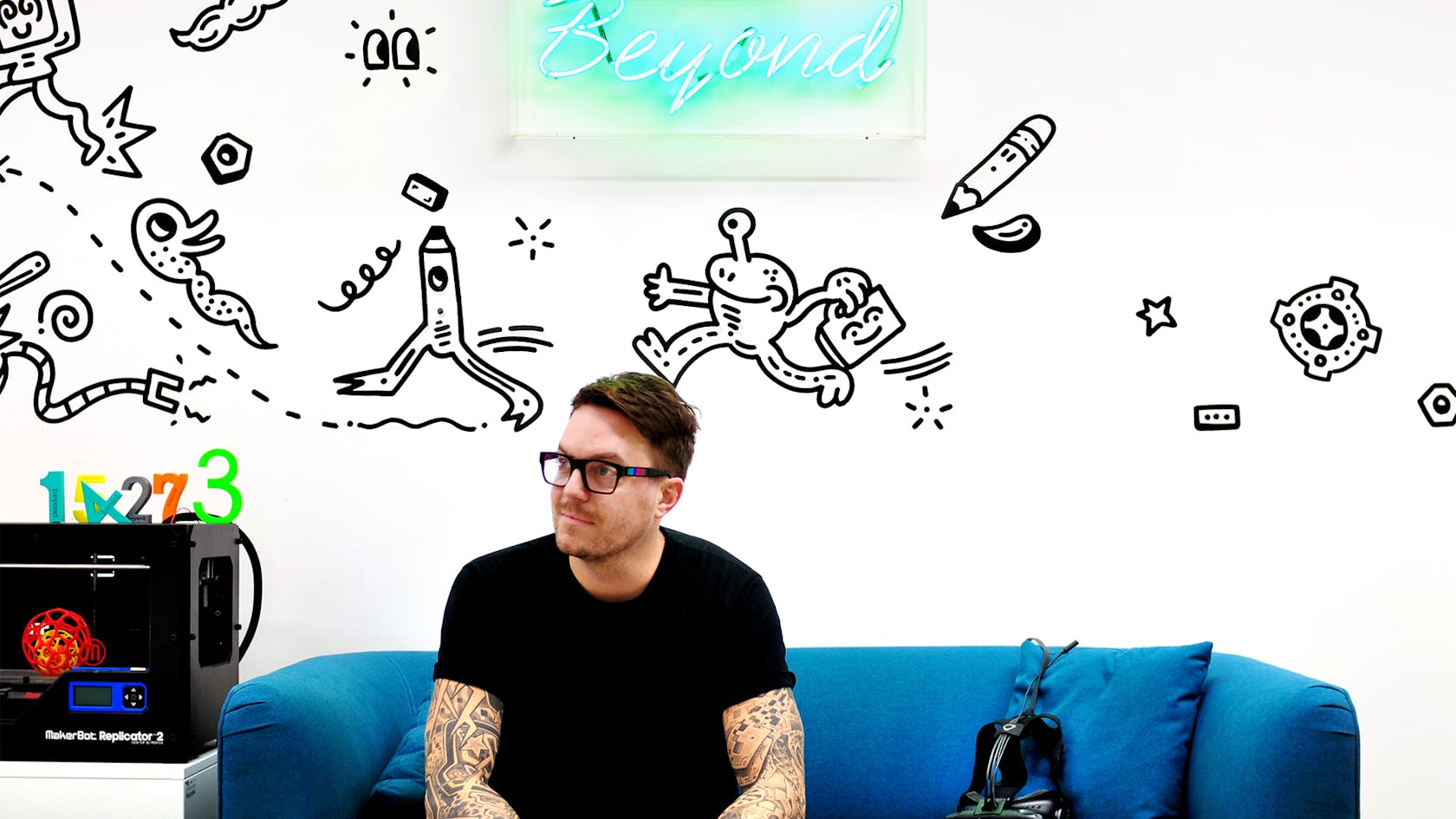 At Beyond, creativity isn't limited to the creative department – because we don't have one. We believe in harnessing creativity from our whole team, so it's important for us to have an environment that's conducive to a collaborative way of working.
We moved to London Bridge three years ago, into Kurt Geiger's old warehouse, after outgrowing our old office in Soho.
Since then, we've been making our mark on the space, most notably with our bespoke walls by the Doodle Man (thedoodleman.co.uk) [1]. The Beyond team submitted their favourite memories from our seven-year history, which the Doodle Man weaved into his signature style, resulting in walls that contain a story personal to everyone who has worked in the LDN office.
Another item that tells you who we are – quite literally – is our neon sign [2].
We got this two years ago from God's Own Junkyard, a warehouse in Walthamstow that houses one of the largest neon collections outside the US. We are lucky enough to own one of the last pieces created by Chris Bracey, the artist, designer and creative junkie who owned God's Own Junkyard.
Beyond is a design and technology ideas company, so we're always looking to fill our studio with technology that helps facilitate and inspire ideas. Our VR kit [3] allows our designers to draw in 3D, resident gamers to immerse themselves in virtual landscapes like never before and, crucially, it allows our whole team to experiment and keep up to date with tech that will no doubt have a huge impact on the way we work in the not-so-distant future.
Similarly, we have our 3D printer [4]. After years of enabling our ideas to jump from our heads, to our screens, to something tangible, the front of the printer started to crack. This was easily solved, though. We just printed a new face!
So, the printer is still going strong, printing everything from pen pots to toys and figments of the team's imagination and, most importantly, awards for our Beyond birthdays [5], which you can usually find proudly displayed on the top of our monitors.
 You can follow the studio on Instagram (instagram.com/bynd) for more behind-the-scenes access.
This article originally appeared in the May edition of Net Magazine.